HUGO VAN DER MOLEN'S
Historic Papers site
a collection of historic invoices and letters
een verzameling historische rekeningen en brieven
---
Bathrooms / Badkamers
(update May 15th 2011)

Dr. Hugo H. van der Molen - Wederikweg 114 - 9753 AE Haren, The Netherlands
Tel: +31 (0)50 534 8795; Fax: +31 (0)50 534 0852; email: [email protected]
---
Ordering information / Bestelinformatie
---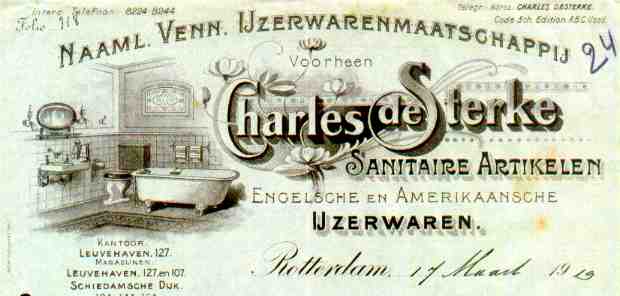 Ijzerwarenmaatschappij voorheen Charles de Sterke, NV
Sanitaire artikelen; Engelse en Amerikaanse Ijzerwaren
nota, Rotterdam, 1919; very decorative piece with 8 by 6 cm picture of bathroom interior, 50 Euro.
---
---
The Bathtub Test
During a visit to the mental asylum, I asked the director how do You determine whether or not a patient should be institutionalized.
"Well," said the director, "we fill up a bathtub, then we offer a teaspoon, a teacup and a bucket to the patient and ask him or her to empty the bathtub."
"Oh, I understand," I said. "A normal person would use the bucket because it's bigger than the spoon or the teacup."

"No." said the director, "A normal person would pull the plug. Do you want a bed near the window?"

ARE YOU GOING TO PASS THIS ON, OR DO YOU WANT THE BED NEXT TO MINE ?