---
HUGO VAN DER MOLEN'S
picture postcard site
a collection of picture postcards / een verzameling (prent)briefkaarten

---

Louise Abbéma
(1853 - 1927)
(update April 3rd 2008)

Dr. Hugo H. van der Molen - Wederikweg 114 - 9753 AE Haren, The Netherlands
Tel: +31 (0)50 534 8795; Fax: +31 (0)50 534 0852; email: [email protected]

U bent hier: home - postcards - search by theme or illustration - art - Louise Abbema

bestellen en betalen / ordering and paying

prijzen excl. verzendkosten / prices exclusive shipment costs
Paypal and most credit cards are accepted

---
Abbéma, Louise
Flora
Salon de Paris, 1913

postally unused, glue remains on the back; on the front some wear on the edges.

A. Noyer - Paris: Luxochromie
logo on the back side: SPA

Orderno.: mythology 3
Price: € 50

Abbema, Louise
Flora
Salon de Paris, 1913

postally unused, but written message on the back with pencil.

logo on the back side: SPA

Orderno.: mythology 4
Price: € 10
---
click here for a similar post card and also ceramic bathroom tiles of this painting (neasuring 156 cm by 167) can be seen on:

click here for a webpage with almost 100 of her paintings !

And, if you wish to have it repainted for you: click here.
---
Abbéma, Louise
La toilette de la Vérité
Salon de Paris, 1914

postally unused

logo on the back side: SPA
7335 dt.; ND. Phot.

Orderno.: mythology 10
Price: € 25
---
---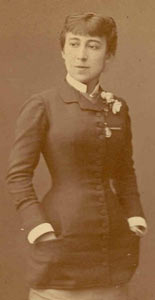 Louise Abbéma
(1853 - 1927)
On November 27th 2007 Wikipedia writes the following about Louise Abbéma:
Abbéma began painting in her early teens, and studied under such notables of the period as Charles Chaplin, Jean-Jacques Henner and Carolus-Duran. She first received recognition for her work at 23 when she painted a portrait of Sarah Bernhardt, her life-long friend and, many believe, her lesbian lover.[1]
She went on to paint portraits of other contemporary notables, and also painted panels and murals which adorned the Paris Town Hall, the Paris Opera House, numerous theatres including the "Theatre Sarah Bernhardt", and the "Palace of the Colonial Governor" at Dakar, Senegal. She was a regular exhibitor at the Paris Salon, where she received an honorable mention for her panels in 1881. Abbéma was also among the female artists whose works were exhibited in the Women's Building at the 1893 World Columbian Exposition in Chicago. A bust Sarah Bernhardt sculpted of Abbéma was also exhibited at the exposition.
Abbéma specialized in oil portraits and watercolors, and many of her works showed the influence from Chinese (Chinoiserie) and Japanese (Japonism) painters, as well as contemporary masters such as Édouard Manet. She frequently depicted flowers in her works. Among her best known are The Seasons, April Morning, Among the Flowers, Winter, and portraits of Emperor Don Pedro of Brazil, Ferdinand de Lesseps, and Charles Garnier. Abbéma was also an accomplished printmaker, sculptor, and designer, as well as a writer who made regular contributions to the journals Gazette des Beaux-Arts and L'Art.
Among the many honors conferred upon Abbéma was nomination as official painter of the Third Republic. She was also awarded a bronze medal at the 1900 Exposition Universelle and in 1906 was inducted into the Légion d'Honneur.
Abbéma died in Paris in 1927. By the end of the 20th century, as contributions by women to the arts in past centuries received more critical and historical attention, her works were enjoying a renewed popularity.
links:

Artcyclopedia listing

Short biography at Tallulahs.com

Short biography at Nelepets.com
---
U bent hier: home - postcards - search by theme or illustration - art - Louise Abbema