HUGO VAN DER MOLEN'S
picture postcard site


---

Lord Frederick Leighton (1830-1896)
(update June 25th 2020)

Dr. Hugo H. van der Molen - Wederikweg 114 - 9753 AE Haren, The Netherlands
Tel: +31 (0)50 534 8795; email: [email protected]

U bent hier: home - picture postcards - art - Lord Frederick Leighton

bestellen en betalen / ordering and paying

prijzen excl. verzendkosten / prices exclusive shipment costs
Paypal accepted
klik op foto's om te vergroten / click on photos for enlargements


---
Lord Frederick Leighton (1830-1896)
English Academic painter, sculptor, illustrator & writer
The English Artist, Lord Frederick Leighton was born in 1830 in Scarborough (England) to a family in the import and export business. He was educated at University College School, London. He then received his legal training on the European continent, first from Edward von Steinle and then from Giovanni Costa. He died in 1896 in Greater London (England) on the next day after being given a peerage. As he was unmarried, after his death his Barony was ended after existing for only a day; this is a record in the Peerage.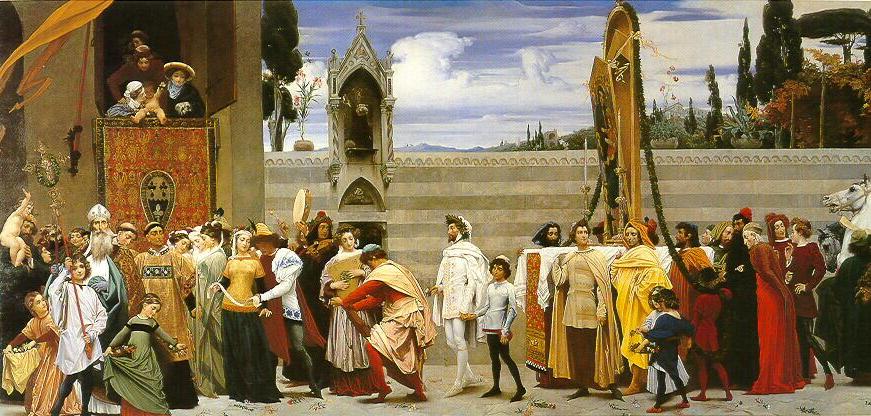 Cimabue's Celebrated Madonna is Carried in Procession through the Streets of Florence
(source: http://www.tragsnart.co.uk/arthub/leighton/leighton.htm)
In 1855 Leighton sent his vast canvass Cimabue's Celebrated Madonna is Carried in Procession through the Streets of Florence, to the Royal Academy Exhibition, where it was a sensation, creating his reputation as an artist overnight. This vast painting, done in Rome was the product of two years work. It is over 17 feet long! The subject concerns Cimabue's Rucellai Madonna being taken in procession from the painter's house to a large church in 13th century Florence. The painting was meticulously planned by Leighton, and a great number of preparatory sketches were used. The whole vast picture is wonderfully painted, and in it's style points towards the mature large works of the painter. It is, however, very static, also an enduring feature of Leighton's work. The picture was greatly admired by Prince Albert, and as result was bought by Queen Victoria for 600 guineas (£630). In the immediate following years, Leighton was unable to repeat this success, but as the 1860s progressed grew steadily more successful. He moved to London in 1859, was elected in Associate of the Academy in 1864, a full Academician in 1868, and PRA (President of the Royal Academy) in 1878.

Leighton was a lifelong bachelor. In later life his favorite model was Ada Alice Pullen, known as Dorothy Dene. George Bernard Shaw knew them both, and it is likely that they were the models for Professor Higgins and Eliza Doolitlle in Pygmalion. Throughout his life he was energetic, and hardworking, and his inability to take life more easily when in his sixties accelerated his death. It is a curious fact that Leighton was only Baron Leighton of Stretton on the last day of his life. His funeral was at St. Pauls Cathedral.
(source of of most of the text and illustration above and many other ones not shown here: http://www.tragsnart.co.uk/arthub/leighton/leighton.htm). See also another site with many of his paintings.
---
---
The Arab Hall was designed as a setting for Leighton's collection of tiles from Turkey and Syria

\

Exterior of Lord Leighton's house
Leighton's magnificent home Leighton House, is now a museum and garden.
at 12 Holland Park Road, W14 8LZ (020 7602 3316, [email protected])
I have had the pleasure of visiting this beautiful house.
---
---
Clik here for painted replica of his paintings
---
---
Picture post cards of his paintings, here for sale:
The Bath of Psyche
By Lord Leighton, P.R.A.; the Tate Galery

Ed. Gale and Polder Ltd., 2 Amen Corner, London, EC ; printed at Aldershot; The Nelson Series, G & P Ltd.

Uncirculated, early 20th century

Orderno. Psyche-1

Price: € 15

The Bath of Psyche
by Lord Leighton

Ed. Stengel & Co., Dresden, 29281
Aus Sammlung J. Thomas, Sachrang / Obb.

Sent in an envelope in 1915 from Rome

Orderno. Psyche-2

Price € 25
Psyche in Greek means Soul. Psyche is the personification of emotion. The word Psychology stems from her name. Read more....
Click here for a photo of the original painting (source: http://www.kevinalfredstrom.com/art/v/paintings/Leighton_The_Bath_of_Psyche.jpg.html)
---
Robert Anning Bell made beautiful "book plates" (Ex Libris) for Leighton, displayed on page 22 and 23 of:
Hopkinson, Martin (2011), Ex Libris: The Art of Bookplates, London, 2011: The British Museum, ISBN: 9780714126746, Paperback with flaps,112 pages,190 x 170mm,100 colour illustrations. Click here for Ex Libris we have for sale.
---
In the warm month of June 2020, I found on Facebook one of Leighton's paintings, expressing the weather situation during that month.
Flaming June (Vlammende Juni) (1895), Oils on a 47" x 47" canvas.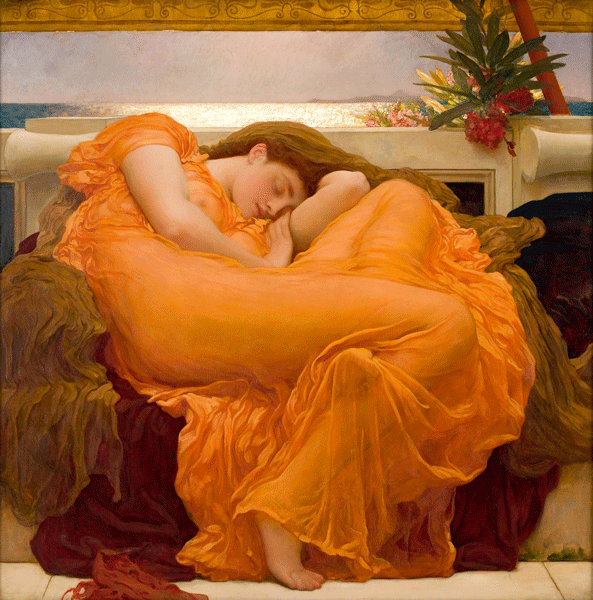 Click on the picture for an enlargement
Onze maand Juni - en het Engelse June - zijn afgeleid van de belangrijke Romeinse Godin Juno.
---
U bent hier: home - picture postcards - art - Lord Frederick Leighton
.