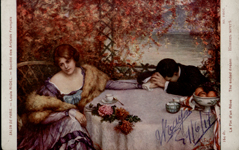 Louis Ridel (1866-1937):
La Fin d'un Rêve - The ended dream
Salon de Paris
Imp. Phot. Neurdein et Cie - Paris, S.P.A. , 164 dt.
Uncirculated by post, but clearly sent - in 1917 - with a message from one (former) lover to the other, a poem suitable for the occasion of separation.
Orderno. romantiek 5
Price: € 25
see written message on the back side:

au Monsieur Damien Yvant
Secteur 148
C'est la fin du bonheur, calme et suranné.
Il reste par les nuits d'hiver et sur le givre
Une larme qui tombe au feuillet du vieux livre
où d'autres ont laissé quelques bouquets fanés.
Thérèseae