---
---
---
Victor Giraud (1840-1871): Un Marchand d'Esclaves

Musée du Louvre - École Francais, ca. 1910

gelopen / used in 1910
(the card shows much more detail than this darkish scan)

orderno.: naakte vrouwen 4
Price: € 50 (sold: no longer available)

gelopen / used in 1910

stamp R. Cambon
another picture postcard in colour does exist (not for sale here)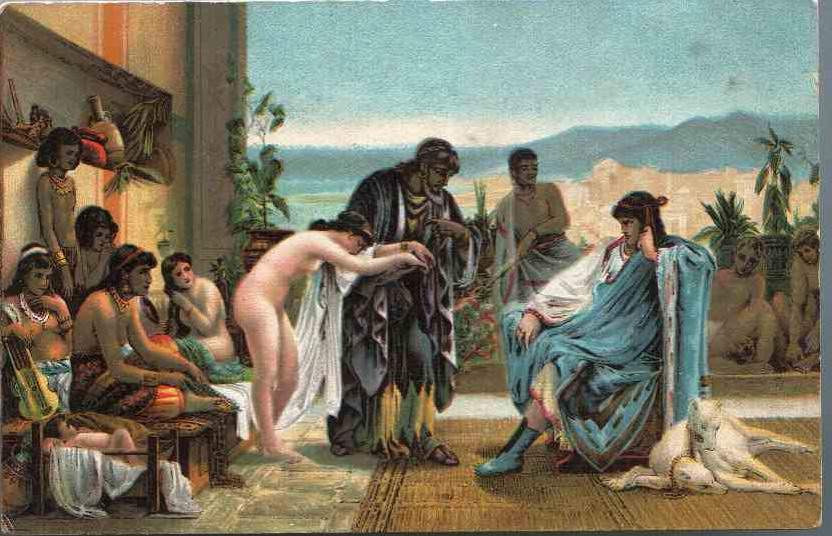 ---
---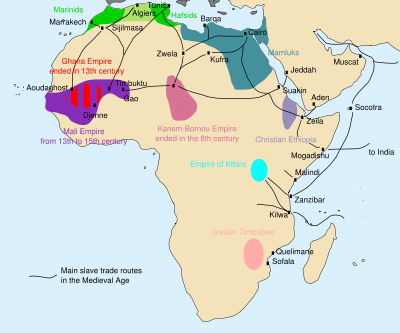 13th century Africa - Map of the main slave trade routes and states, kingdoms and empires

read mor about the history of slavery on Wikipedia
In Nederland werd in 2011 een lange TV-serie over de slavernij uitgezonden, zie www.deslavernij.nl
---
---
Boulanger
: The Slave Market
---
---
Giles Milton,
White Gold, the extraordinary story of Thomas Pellow and North Africa's one million European slaves.
First published in Great Britain in 2004 by Hodder and Stoughton, London; paperback edition in 2005; ISBN 0-340-79470-4; 316 pages with an index, notes and sources.

In the 16th, 17th and 18th century at least one million white Europeans (and Americans as well) were enslaved in northern Africa, captured at sea or raided and captivated along the costs of southern Europe, including Ireland and England. They were captured and auctioned at a rate of about 5.000 a year on an average. There were thriving slave auctions in Marocco, Algiers, Tunis and Tripoli.

Giles Milton describes in gruesome detail how these slaves were captured, auctioned, used and dealt with, in the context of religious differences between North Africa and Europe: a great culture clash.

He also mentions that, in despite of al this, the North Africans and Europeans worked closely together in the slave trade to the Americas, in which about 15 million captured black Africans were enslaved.

If the western European and American countries should rise statues in remembrance of this slave trade ( I would suggest dedicated museums as well for a better understanding), the north African slave market cities might do so as well, and not only for the black slaves.
---
---
Alexandre Dumas
De slavin van Keizer Nero
(oorspr. Franse titel: Acté)
Amsterdam, 1982: Uitg. Loeb, 269 p.
ISBN: 9062135269, alleen antiquarisch te verkrijgen.

Prijs, hier te bestellen in heel goede staat: € 20 + verz. kosten (brievenpost).

In deze historische roman beschrijft de bekende Franse historie-schrijver Dumas hoe de uiterst wrede Romeinse keizer Nero in ca. 57 na Chr. in Griekenland een mooie vrouw, ontmoet, Acté genaamd, als hij daar met een klein gevolg landt om mee te doen aan de spelen. Ze worden verliefd en hij neemt haar mee terug naar Rome als zijn geliefde en slavin. Dumas beschrijft de wreedheid en het morele verval van Nero en zijn entourage, de moord op zijn moeder, Agrippina en hoe Acté uiteindelijk de apostel Paulus ontmoet en zijn in de catacomben levende Christengemeenschap, die onder Nero hevig vervolgd wordt. Met Nero loopt het echter ook slecht af. De cover foto suggereert ten onrechte een erotische inhoud van dit inhoudelijk toch serieuze en spannend geschreven boek.


---
Jean-Léon Gérôme: selling slaves in Rome ?

Not really, as is pointed out by Marie-Pierre Bussières

This is not a slave-sale scene, it is the famous courtisan Phryne, who was brought to trial by a former lover for having introduced the cult of a foreign god in Athens. Seeing that the cause was lost, her lawyer undressed her and the beauty of her breasts won her cause. She is always depicted hiding her face with her arm, as a way to keep her pride in front of the Aeropagus.

wrong title
Posted by Marie-Pierre Bussières on 24.November 2010, 15:15

click on picture for enlargement ---------->
Jean-Leon Gerome (May 11, 1824 - January 10, 1904) was a French painter and sculptor in the style now known as Academicism. The range of his oeuvre included historical painting, Greek mythology, Orientalism, portraits and other subjects, bringing the Academic painting tradition to an artistic climax. You can find his comlete works on http://www.jeanleongerome.org/
---

Further literature:
Allebras, Aad, Slavernij: vooral bedreven door zwarten en moslims, afgeschaft door blanken, Reactnieuws, 15-6-2020. (klik hier indien de link verbroken blijkt)

Focus on the skave trade, BBC News, 3 September 2001

Emmer, P.C., De Nederlandse slavenhandel 1500-1850, Amsterdam, uitg. De Arbeiderspers, derde druk 2007 (1e was in 2000), ISBN 978 90 295 1560 3/NUR685
(sex)slavernij weer invoeren in Koeweit ?

---
U bent hier: home - picture postcards - slavery
en Facebook of Linkedin
.