---
HUGO VAN DER MOLEN'S
Scripophily site
a collection of historic bonds and shares
---
Graceful women: The Netherlands
(update: July 22nd 2014)
Dr. Hugo H. van der Molen - Wederikweg 114 - 9753 AE Haren, The Netherlands
Tel: +31 (0)50 534 8795; email: [email protected]
---
See page on explanations, sales conditions, costs of shipping and on how to order and to pay.
Paypal, VISA, Euro-Mastercard & American Express cards are accepted

You are here: home - scripophily - female beauty - graceful women: The Netherlands
---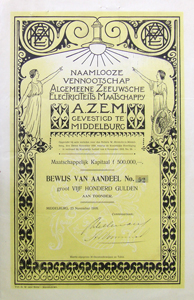 Algemeene Zeeuwsche Electriciteits Maatschappij A.Z.E.M., NV
gev. te Middelburg
Bewijs van aandeel f 500 aan toonder in een Kapitaal van f 500.000, Middelburg, 1918; schitterend art-deco ontwerp met 2 elegante dames die naar een lamp wijzen; Een van de mooiste Nederlandse aandelen ! typografie: G.W. den Boer-Middelburg; afm. ca. 21,5 x 34 cm, los couponblad, waarvan 2 geknip; conditie VF: div. vouwen en enkele nietjes-sporen; prijs € 450.
---
See page on explanations, sales conditions, costs of shipping and on how to order and to pay.

You are here: home - scripophily - female beauty - graceful women: The Netherlands