HUGO VAN DER MOLEN'S Scripophily site a collection of historic bonds and shares

---

JEWELRY / JUWELEN
(update: October 2nd 2009)

Dr. Hugo H. van der Molen - Wederikweg 114 - 9753 AE Haren, The Netherlands
Tel: +31 (0)50 534 8795; Fax: +31 (0)50 534 0852; email: [email protected]
---
See page on explanations, sales conditions, costs of shipping and on how to order and to pay.
Paypal, VISA, Euro-Mastercard & American Express cards are accepted

You are here: home - scripophily - jewelry
---
Belgium
Verreries Coloniales, action de 100 Fr., no. 2445, Merxhem-lez-Anvers, 4-9-1898, # = 2800, printed by l. Vrydaghs et Co., Anvers, coupons attached, stamp of 1900: "6150 actions de 100", EF, unfolded, f 3.300 = 1.500 Euro.
Beautiful large picture of lady with long hair in eastern dress, decorated with many beads, breasts uncoverd, looking in a hand held mirror, see picture.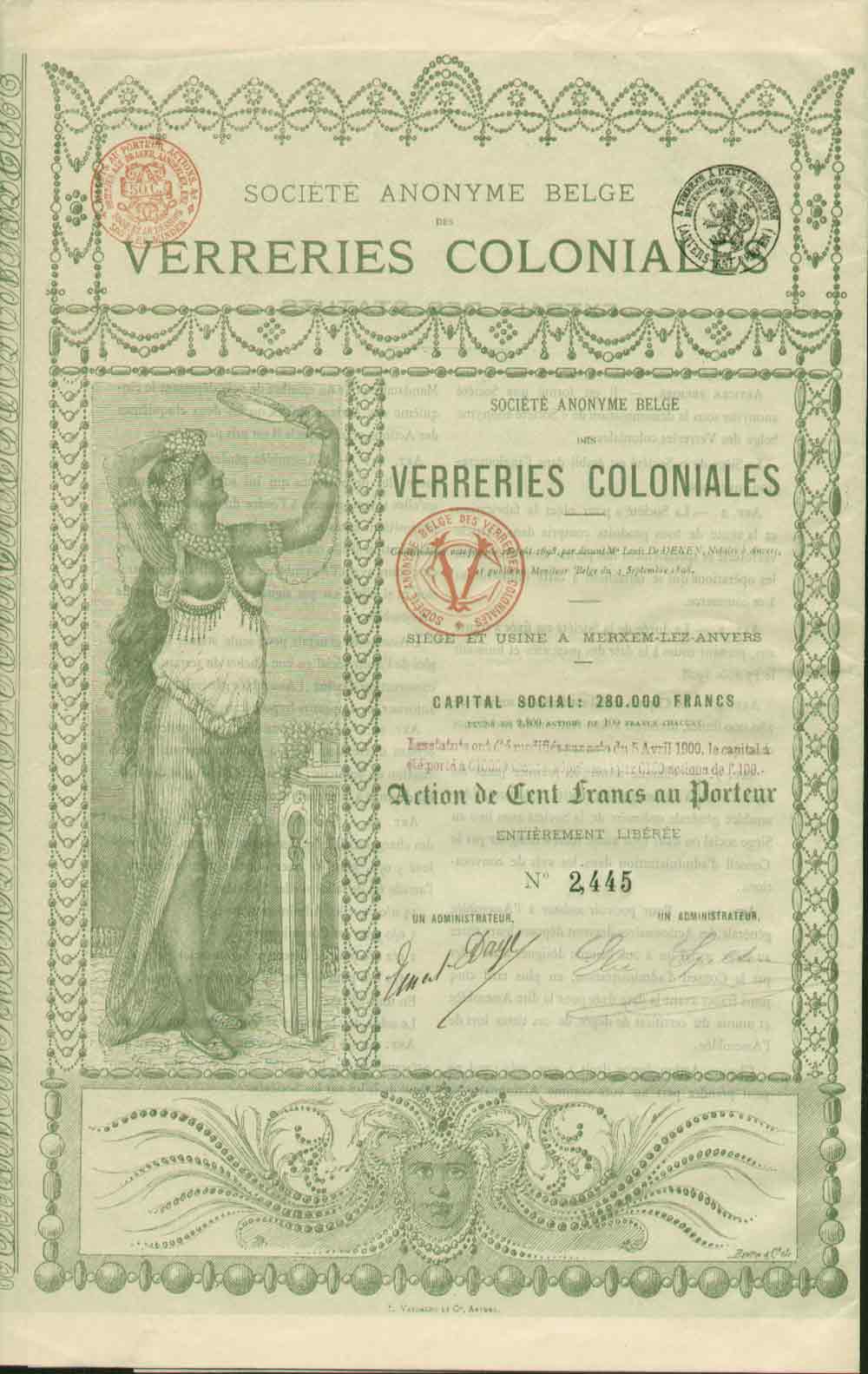 ---
---
Italy
Societa Veneziana per l'Industria delle Conterie, Venezia february 1st 1933, share of 350 Lira; black on yellow, unfolded, hole cancelled, EF, price: 270 Euro.
Very decorative: a beauty to frame ! see picture. (150Kb !)
This glass bead industry on the isle of Murano was established at instigation of the discoverer Marco Polo who exchange-traded the beads with the people he met at foreign shores.
Illustrations:
- View on Venice, probably Murano
- Lion with text PAX TIBI MARCE EVANGELISTA MEOS
- Cock with snake, the armour symbol of the isle of Murano, which became part of Venice at the late 1930ies.
- 2 gracious ladies with glass bead strings, the produce of the factory
- orange trees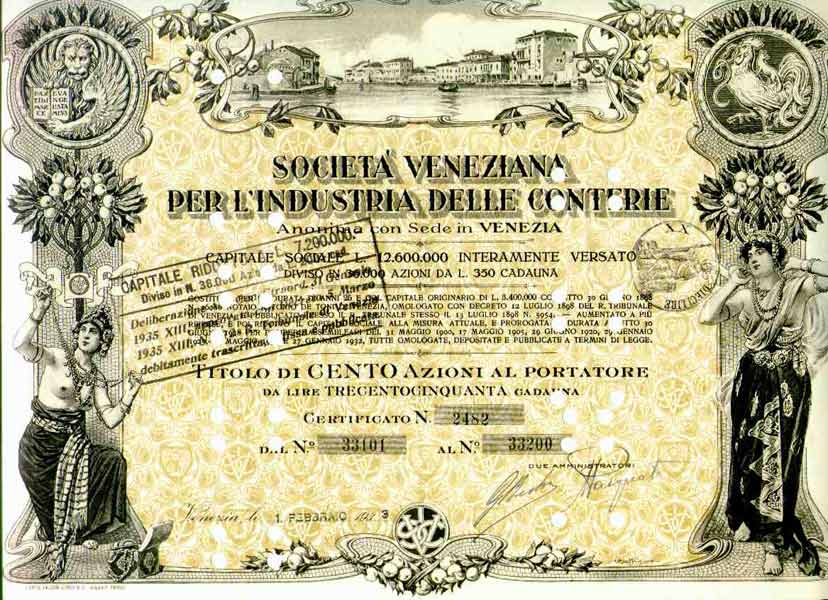 ---
---
De Zilver-, Goud- en Diamant-Handel voorheen Hoeker & Zoon, N.V.
Established in Amsterdam; Winstbewijs voor 1/132e aandeel in de winst tot een maximum van f 600. (English: profit-sharing note for a 1/132th part of the profits, with a maximum of DGL 600 in total); Amsterdam, 1-5-1916; printed by M. Lindenbaum, Amsterdam, measuring ca. 17 x 25 cm., with orange printed tax seal; condition EF: 1 neat horizontal fold and a fold in the left lower corner; rare, price € 250.
Willem Christiaan Hoeker was the father (1862 - na 1906) and the son was Willem C. Hoeker.
---
USA
Jeweler Incorporated
incorporated in 1960 under pennsylvania law; certificate of 100 shares, 1972, blue border, 6 by 4 cm photo of a diamond, facsimile signature of Seymour Holzman; company name in yellow; many (severe) staple traces; price 95 Euro.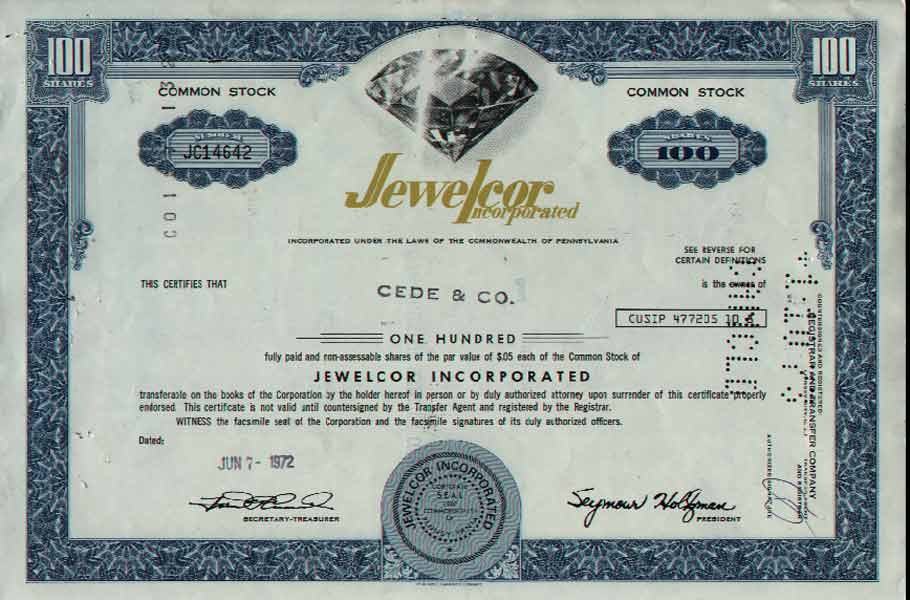 ---
---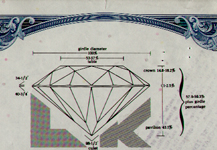 click to enlarge
Lazare Kaplan International Inc.
Delaware, USA, 1978,
certificate of 100 shares
, blue border, unfolded, but various staple traces. The company is listed on the AMEX exchange under code LKI.; price € 50.
---
Take a look at our
special page on diamonds
!
---
You are here: home - scripophily - jewelry