HUGO VAN DER MOLEN'S
Scripophily site
a collection of historic bonds and shares
---
Scarcely dressed women: Austria
(update: August 2nd 2016)
Dr. Hugo H. van der Molen - Wederikweg 114 - 9753 AE Haren, The Netherlands
Tel: +31 (0)50 534 8795; email: [email protected]
---
See page on explanations, sales conditions, costs of shipping and on how to order and to pay.
Paypal accepted

You are here: home - scripophily - scarcely dressed women: Austria
---
Wolford A.G.
Bregenz, Austria (Österreich / Oostenrijk), 1995; Lady Aktie über 100 Shilling; with multicoloured and gold printed painting by the famous Austrian Jugendstil painter Gustav Klimt; without coupons: 21 x 15 cm.; with coupons no. 7-19: 21 x 35 cm. The bonds are listed on the bourses of Vienna (Wien) and Paris. Condition: UNC = printer fresh; a beauty to frame ! Uncancelled, Price € 150.
The women in armour depicted on the left is the Greek Goddess Palas Athene. Read more about her in our Mythology Section under "Athene" .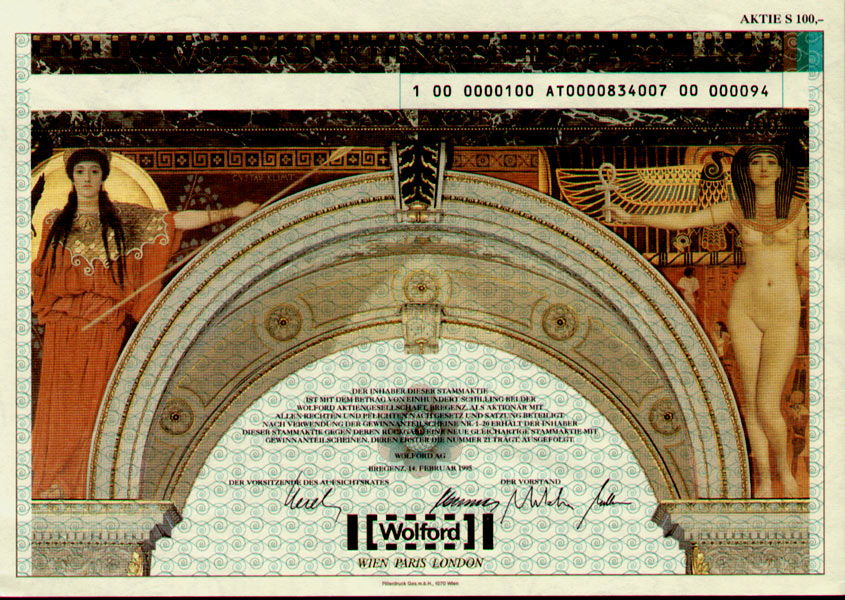 Wolford AG was established in 1949 in Bregenz am Bodensee, Austria.
The Company is a marketer and manufacturer of hosiery, lingerie and women's fashion.
It operates a large number of fashion shops world wide: read it's history and more !
---