HUGO VAN DER MOLEN'S
Historic Papers site
a collection of historic invoices and letters
een verzameling historische rekeningen en brieven
---
Walküre
(update June 17th 2008)

Dr. Hugo H. van der Molen - Wederikweg 114 - 9753 AE Haren, The Netherlands
Tel: +31 (0)50 534 8795; email: [email protected]

en Facebook of Linkedin
---
Ordering information / Bestelinformatie
---
Germany / Deutschland

------------------------------(click to enlarge ) -----------------------------

Erste Bayreuther Porzellanfabrik "Walküre", Siegm. Paul Meyer. GmbH,
Bayreuth, Germany, 1922; Firma briefkarte mit kleines Logo, 2 Briefmarken gestempeld "Bayreurth", geschikt am Meyes & Höweler, bekannte Bank in Amsterdam, vorlaufer der Twentsche Bank, Preis: 35 Euro.
---
"Die Walküre" is de eerste grote tragedie uit Wagner's "Ring des Nibelungen". Wagner leefde in Bayreuth van 1872 tot hij in 1883 stierf (zie verder hieronder)
De walkuren (of valkyries) zijn strijdgodinnen uit de Noordse mythologie. Oorspronkelijk waren het grimmige doods- en oorlogsgodinnen, maar uiteindelijk evolueerden zij van lelijke heksen tot schone maagden. Ze waren de diensters of dochters van Odin en droegen mooie harnassen met helmen en speren en zaten op paarden met vleugels.
(bron: http://www.informatieve-links.nl/walkure.html).
click to enlarge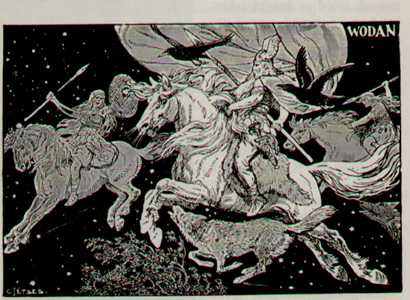 uit: Kleijntjens en Knippenberg (1955, p. 248)
Kleijntjens en Knippenberg (1955) schrijven er het volgende over:

p. 241: Wodan (Odin) mengt zich vaak in een gevecht en waart dan rond boven het slagveld met zijn Walkürenschaar.
p. 247; Walküren zijn Wodan's dienaressen. In de strijd houden zij op Wodan's bevel, op hun briesende wolkenrossen, de vluchtenden tegen, wier knieën ze met boeien omwikkelen, zodat verder vluchten hen onmogelijk wordt.
p. 265-7: Ze leidden de verslagen helden naar het Valhalla, een uit goud opgetrokken burcht met 540 poorten.

Als de vuurtongen van het Noorderlicht haar wonder schijnsel uitstraalden, dan geloofden oude Vikingen, dat de Walküren op haar zilverwitte paarden het Walhalla verlieten om naar de slagvelden te rijden.

bron: Kleijntjens, S.J. en Knippenberg H.H. (1955), Van Goden en helden, mythen en Sagen van Grieken, Romeinen en Germanen, Groningen: J. B. Wolters, 16e druk, 1955; 322 p. met div. afb. in zw. wit.
---
Richard Wagner and Bayreuth
The city is best known for its association with the composer Richard Wagner, who lived in Bayreuth from 1872 until his death in 1883. Wagner's villa, "Wahnfried", was constructed in Bayreuth under the sponsorship of King Ludwig II of Bavaria, and was converted after World War II into a Wagner Museum. To the north of Bayreuth is the Bayreuth Festspielhaus, an opera house specially constructed for and exclusively devoted to the performance of Wagner's operas. The premieres of the final two works of Wagner's Ring Cycle; of the cycle as a whole; and of Parsifal took place here.
Every summer, Wagner's operas are performed at the Festspielhaus during the month-long Richard Wagner Festival, commonly known as the Bayreuth Festival. The Festival draws thousands of attendees each year, and has consistently been sold-out since its inauguration in 1876. Currently, waiting lists for tickets can stretch for up to 10 years or more.
(bron: Wikipedia, 18-6-2008)
---

Back to home page company letters and invoices / terug naar firmabrieven en -rekeningen

Back to general home page / terug naar homepagina
en Facebook of Linkedin