HUGO VAN DER MOLEN'S
Historic Papers site
a collection of historic invoices and letters
een verzameling historische rekeningen en brieven
---
Gas / Gas
(update 30-9-2021)
---
---
Belgium/ België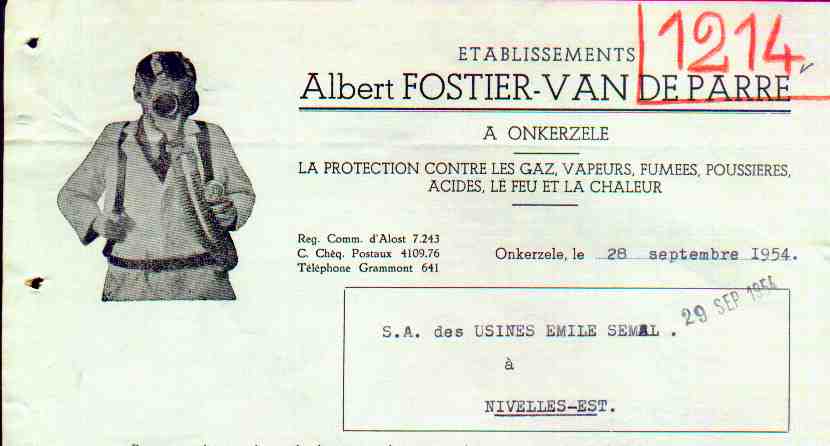 Albert Fostier-Van de Parre (Etablissements)
La Protection contre les Gaz, Vapeurs, Fumees, Poussieres, Acides, le Feu et la Chaleur
Onkerzelle, Belgium
English: Protection against gas, vapour, smoke, dust, acids, fireand heat.
Invoice from 1954; 5 by 6 cm picture of a man wearing a gas mask, 5 archive holes in left border, 50 Euro.
---
The Netherlands / Nederland
---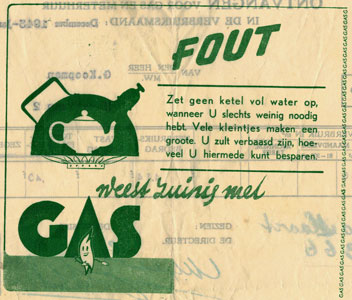 Gasfabriek der gemeente Zeist
Gasrekening uit 1944 met acherop een afbeelding van een theepot in een grotere waterketel, met de besparingstip om nooit meer water te verwarmen dan in de theepot kan.
Afm. ca. 12,5 x 22,5 cm; div. gebruikssporen waaronder een 1 cm scheurtje midden onder, Prijs: € 15
---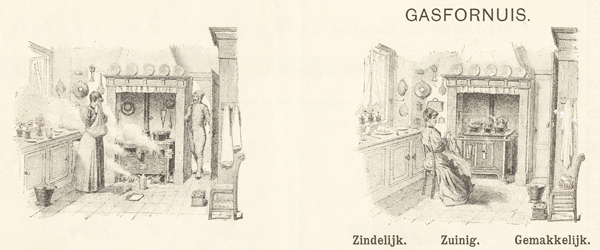 Stedelijke Gasfabriek
Leiden, 1895
Ontvangstbewijs (24,5 x 11,5 cm.) met op achterkant gravures van een kolenfornuis en een gasfornuis met daaronder de tekst: "Zindelijk, Zuinig, Gemakkelijk".
----- juni 1895, heel gaaf gebleven, prijs € 20.
----- februari 1895, heel gaaf, maar div. lichtbruine verkleuringen, prijs € 15.