---
Learn more about our environment and invest in it: facts, numbers and opinions
---
---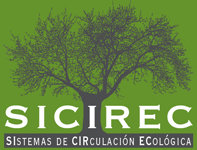 Sicirec, abbreviation of Sistemas de Circulación Ecológica (Ecological Cycle Systems), is an internationally operating forestry investment and development company, based in The Netherlands.
The Sicirec Formula:
It is of the utmost importance that we develop methods to combine nature preservation with profitability. Only if this can be achieved will Nature conservation escape from "subsidy" mode and gain any sort of stability for the long term. This is what the Sicirec Formula is all about. The Sicirec Formula implies a pattern of land use in which some areas concentrate on optimising financial profitability and other areas are devoted entirely to nature conservation. This results in a mosaic of productive land, embedded in a coherent network of ecological pockets and corridors. Land owners are only allowed to participate in the project if they are willing to set aside a minimum of 20% of the land involved entirely for nature conservation. As a result, this ecological aspect of the project makes cheaper financing possible and it actually pays off to apply the Sicirec Formula and make the project really "green".Our goal is to demonstrate that the Sicirec Formula works, producing profit for investors as well as for nature. Once that has been demonstrated unequivocally, this method of organisation and of financing will spread rapidly all over the world, helping to finance nature conservation on an unprecedented scale – intertwined with the productive and inhabited areas of our planet. Read more about "The Sicirec Formula"
---
---
For both private and institutional investors Sicirec offers a choice of investment possibilities in ethical timber plantations and reforestation projects.
- Sicirec Forestry Mix Fund (investments > € 50.500).
- The Arbolivia Project: investments > € 5.000 (private investors) and > € 500.000 up to € 10 million (institutional investors).
- EcoProFF: investors can subscribe to a certified share emission of the participation company Sicirec Ecological Projects Forestry Finance BV (EcoProFF). This company invests in the ArBolivia project and subsequent projects.
For further information you may contact Sicirec through:
email:

[email protected]

phone:

00-31-(0)50-3096697 or 00-31-(0)50-3096926

address:

Sicirec Group, Molenweg 15, 9761 VB Eelde, The Netherlands

website: www.sicirec.org
---
This website is an activity of Van der Molen Financial Services,
Copyright 2010 f(f): Dr. Hugo H. van der Molen (editor)
Mail us your comments !
---