---
HUGO VAN DER MOLEN'S
picture postcard site


---

Theodore Chasseriau (1819-1856)
(update March 6th 2009)

Dr. Hugo H. van der Molen - Wederikweg 114 - 9753 AE Haren, The Netherlands
Tel: +31 (0)50 534 8795; Fax: +31 (0)50 534 0852; email: [email protected]

U bent hier: home - picture postcards - Art - Theodore Chasseriau

bestellen en betalen / ordering and paying

prijzen excl. verzendkosten / prices exclusive shipment costs
Paypal and most credit cards are accepted
klik op foto's om te vergroten / click on photos for enlargements


---
Theodore Chasseriau (1819-1856)
Wikepedia (6-3-2009):
Théodore Chassériau (Samaná in de huidige Dominicaanse Republiek, 20 september 1819 – Parijs, 8 oktober 1856) was een Franse kunstschilder uit de Romantiek. Hij is vooral bekend van zijn portretten en historische, religieuze en oriëntalistische schilderijen.
Chassériau was een leerling van Jean Auguste Dominique Ingres, en werd later beïnvloed door Eugène Delacroix. De schilderstijl van Chassériau neemt dan ook een tussenpositie in tussen de neoclassicistische stijl van Ingres enerzijds en de romantische van Delacroix anderzijds. Leerling van hem was Gustave Moreau.
English: http://en.wikipedia.org/wiki/Th%C3%A9odore_Chass%C3%A9riau
For more of Chasseriau's paintings, see http://www.artcyclopedia.com/artists/chasseriau_theodore.html and http://watvanverkomt.blogspot.com/2008/10/theodore-chasseriau.html
---
---
Theodore Chasseriau (1819-1856): Le Tépidarium

ND, Phot. 1026, Musée du Louvre - École Francaise, ca. 1900 ?

ongelopen / unused: see back side

orderno.: naakte vrouwen 6

Price: € 50

The tepidarium was the warm (tepidus) bathroom of the Roman baths heated by a hypocaust or underfloor heating system.The specialty of a tepidarium is the pleasant feeling of constant radiant heat which directly affects the human body from the walls and floor.

A hypocaust (Latin hypocaustum) is an ancient Roman system of central heating. The word literally means "heat from below", from the Greek hypo meaning below or underneath, and kaiein, to burn or light a fire. They are traditionally considered to have been invented by Sergius Orata, though this is not fully confirmed.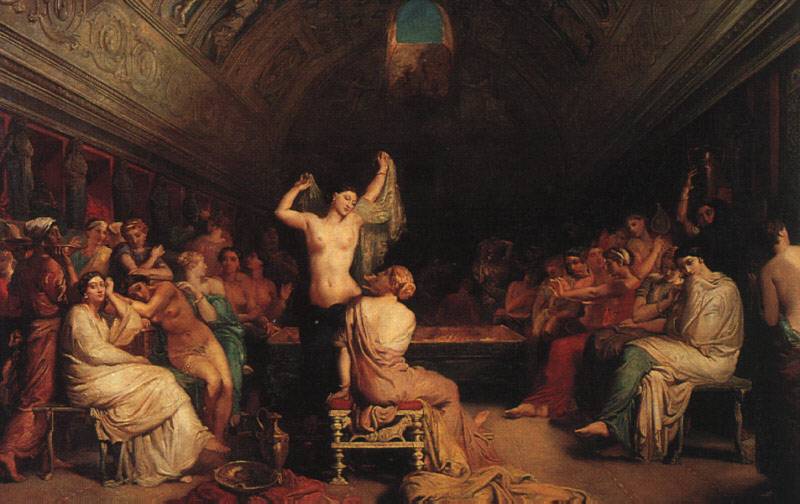 colour photo of the painting (source)
---

U bent hier: home - picture postcards - Art - Theodore Chasseriau