The Bath of Psyche
By Lord Leighton, P.R.A.; the Tate Galery
Ed. Gale and Polder Ltd., 2 Amen Corner, London, EC ; printed at Aldershot; The Nelson Series, G & P Ltd.
Uncirculated, early 20th century
Orderno. Psyche-1
Price: € 15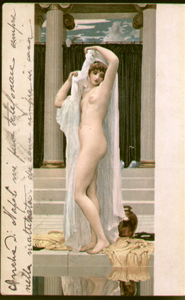 The Bath of Psyche
by Lord Leighton
Ed. Stengel & Co., Dresden, 29281
Aus Sammlung J. Thomas, Sachrang / Obb.
Sent in an envelope in 1915 from Rome
Orderno. Psyche-2
Price € 25