HUGO VAN DER MOLEN'S
Historic Papers site
a collection of historic invoices and letters
een verzameling historische rekeningen en brieven
---

Clothing & Fashion / Kleding & Mode
(update 5-92022)

Dr. Hugo H. van der Molen - Wederikweg 114 - 9753 AE Haren, The Netherlands

Tel: +31 (0)50 534 8795; email: [email protected]

en Facebook of Linkedin
---
Ordering information / Bestelinformatie
Paypal accepted
Email hier uw vragen of bestellingen
You are here: home - historic invoices - search by activity - clothing and Fashion / Kleding en Mode
---
---
Belgium
Georges Socquet, Cravates: Fabrication exclusive en Spécialité
31-33 Rue Donnay, Bruxelles, Belgium; lettre, 1932, 5 by 4 cm. company logo in black / red, showing a man in historic cloths ( i. e. red tails), wearing a cravatte; red "wet stamp with text: "Expos. Intern. dÁnvers 1930, Grand Prix, la plus haute distinction", 2 archive holes, price: 23 Euro.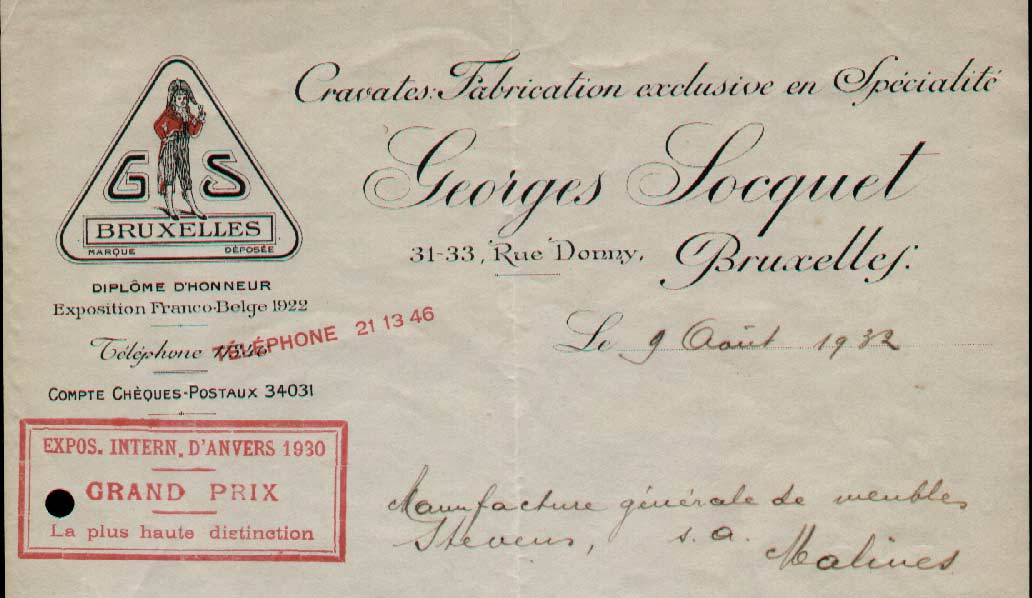 ---
Vetements Engelbert
Liège / Luik
Manufactures Liégeoise de Caoutcouc souple durci et gutta percha.



Rondschrijven uit ca. 1955 met fraaie afbeelding van 3 personen en een hondje.

Paperclipsporen boven de afbeelding en minieme randgebreken.

Prijs € 25
---
---
Nederland / The Netherlands
H.W. van den Bosch
Meester Kleedermaker
Delft, Nieuwen Langendijk 78
Rekening voor dhr. C. van Boheemen met 5ct belastingzegel; afm. ca. 21 x 17 cm. In goede conditie, maar wel een bruin vlekje in de onderrand, Prijs € 15.

van Bos en Meijering
Heeren-, Jongeheeren- en Kinderkleeding gemaakt en naar maat, Heeren Modeartikelen, Dames Kleeding naar maat
Nota uit 1922, blauwe druk, € 10.
---
Kanis & Gunnik
N.V.
Stoom Koffiebranderij & Theehandel,

Kampen (O).

Nota uit 1930, afm. ca. 20 x 22 cm, in groen en zwart gedrukt, met prachtige afbeelding (4 x 3 cm.) van een dame met oorijzers die van een dampende kop thee of koffie geniet; 2 archiefgaten en speldeprik op de i;

prijs € 25.
---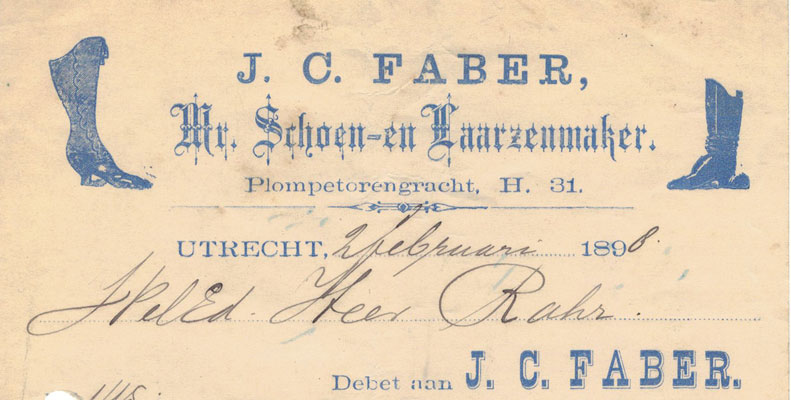 J.C. Faber
Mr. Schoen- en Laarzenmaker
Plompetorengracht H 31, Utrecht
Rekening uit 1898 met 2 afb. van laarzen, gericht aan de Weled. Heer Rahr; afm. ca. 14 x 22 cm., div. vlekjes en 2 archiefgateb, prijs € 15
---

R. Meinders
De Groninger Passementenfabriek
Pelsterstraat 25
Rekeningen met fraaie Jugenstil-ornamenten in het briefhoofd in gele en bruine druk.
----- 1919, 2 x gevouwen en linkerrand omgeslagen om in een A4-hoes te passen, 3cm. scheur links op de middenvouw, Prijs € 15.
----- 1925, 2 x gevouwen en linkerrand omgeslagen om in een A4-hoes te passen, Prijs € 20.
---
G. Talens Bzn.
Groningen, Brugstraat 21, Galerij
Electrische Hemdenfabriek
Heeren Dassen, Boorden, Fronts & Manchetten, Handschoenen, Bretels, Witte en Gekleurde Hemden,
Hoofd Depôt Meij's Stoffwäsche.
Rekeningen met alle een 3,5 x 6 cm gravure van het fraaie pand met de galerij in de Brugstraat.
---------- 1912, klein formaat 14 x 22 cm., prijs, € 20.
---------- 1913, idem
---------- 1916, ca. A4 formaat, prijs € 25

---
---
United Kingdom of Great Britain
Edward Clarke: Tailor, Hosier, Outfitter
37 & 38 High Street, Godalming, UK,
High grade Taioring under Expert Supervision, Liveries aspecialty, Boy's complete School Outfits;
9 by 6,5 cm photograph of the Clarke's store with show-windows, invoice from 1934, 50 Euro.
---
---
USA
I. Smyle & Co., Inc.
656 Broadway, New York; business (standard) letter, 1927; a trading company; specialised in clothing, 7 by 6 cm. (ca. 3 by 2,5 inch) engraving of Atlas carrying the globe with a belt and text: "We Girdle the World", befor a skyline of New York; several heavy folds, affecting the picture, price 35 Euro.
---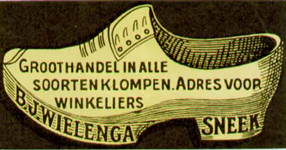 See also our page on Wooden Shoes !
Zie ook: / See also:
---
Email hier uw vragen of bestellingen
You are here: home - historic invoices - search by activity - clothing and Fashion / Kleding en Mode

en Facebook of Linkedin